Discover more from the Empathy List
A kind and smart word from the Christian Left. Curious reads + empathy for all. *Webby Award Nominee for TWO YEARS RUNNING*
Curious Reads: Women Outdoors (Outdoorswomen?)
Females Writing About the Natural World
Hello friends, Liz here.
#1
Today's "top of the fold" story is women outdoors (AKA outdoorswomen).
That is, I want to feature the stories of those women who have moved into the outdoors on their own terms—not with an outfit in tatters as in every action-adventure movie, but the actual, slow and smelly reality of females outside. ;-)
Being a woman—whether on America's frontiers, in naturalistic research, or just camping alone in a national park—is dangerous, and not just because of the outside obstacles. As recently as 2017, the U.S. Department of the Interior found that 53% of women have experienced sexual harassment during their adventuring, which can be anything from cat calls to flashing to assault.
That's an absurd number, and it means that outside is a sexist place.
Even so, women have ventured outdoors with bravado for centuries. (I don't just mean in groups, either, or as companions for men.)
Women have always found ways to satiate their own need for adventure, sport and curiosity about the world around them, often bending cultural expectations to do it.
Personally, I adore these kinds of memoirs. Reading about women self-possessed enough to ignore cultural norms in order to pursue delight or passion lends me courage, too.
Yet outdoorswomen do not only scale the world's tallest mountains, undertake treacherous solo plane journeys around the world, swim the fastest across the Bering Strait in history or pilgrimage into the Sinai desert.
No records need be broken for women to have a notable outside adventure!
Some women—like myself—prefer smaller, more manageable outside experiences. Perhaps we bury our hands in dirt, wielding a back hoe instead of a belaying rope, or we hike and forage for mushrooms as I've had the joy to do with my fellow writer friends
and
.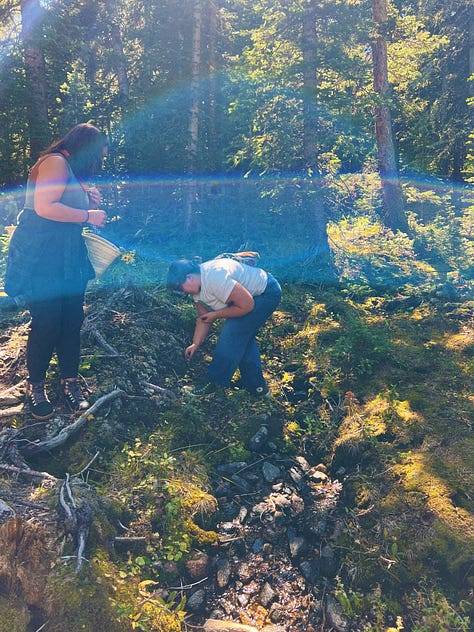 Truly, I am not a pioneer in any sense. But I'm currently trying my hand at some garden writing even as I make plans to shift my eating to a more sustainable model (chickens in the backyard! three growing spaces! a CSA! Etc!).
Changing your life is tiring. And one thing that helps is to gather inspiration from those who have gone before you. So I'm seeking out stories of women who have already chronicled their lives outside, to be rejuventated by their wisdom.
And now I want to share that inspiration with you. :)
So, these are a few of my very favorite books starring and written by outdoorswomen:
Wild by Cheryl Strayed (duh)
A recovery/grief pilgrimage along the Pacific Coast trail.
The Sinai Sisters: How Two Lady Adventurers Discovered the Hidden Gospels by Janet Soskice
Two twin sisters/widows/self-taught scholars hunting for Biblical manuscripts in Egypt.
Animal, Vegetable, Miracle: A Year of Food Life by Barbara Kingsolver
One year on a regenerative family farm.
Plenty: One Man, One Woman, and One Racuous Year of Eating Locally by Alisa Smith & J.B. Mackinnon
A couple commits to eating a 100-mile-away diet—food only grown or produced or caught within 100 miles of their Canadian home—including through the winter.
Every book by Annie Dillard (my current favorite: For the Time Being)
A philsopher and ad hoc naturalist with an eye on the everyday outdoors that surround her.
As I said, those are current favorites. In reality, I have an even bigger bed-side pile to read, which includes a more diverse offering.
Here's my to-read pile:
Replenishing the Earth: Spiritual Values for Healing Ourselves and the World by Wangari Maathai
A Kenyan reforestation activist and Nobel Peace Prize winner writes about the spirituality of preservation.
Braiding Sweetgrass: Indigenous Wisdom, Scientific Knowledge and the Teachings of Plants by Robin Wall Kimmerer
An indigenous botanist writes essays about nature and a regenerative relationship with the Earth.
The Everglades: River of Grass by Marjorie Stoneman Douglas
The loudest, most influential voice the conservation of Florida's Everglades.
Life in the Garden by Penelope Lively
A British fiction writer on the literary and human meaning of backyard gardens for humankind.
Dirt Under My Nails: An American Farmer and Her Changing Land by Marilee Foster
A college grad returns home to run the family potato farm in Long Island, NY.
A Darker Wilderness: Black Nature Writing from Soil to Stars edited by Erin Sharkey
An essay collection of Black writers' experiences in nature.
A Lady's Life in the Rocky Mountains by Isabella L. Bird
An early American female pioneer sets off on horseback alone, heading west.
Grand: A Memoir by Sara Schaefer
A Grand canyon river trip offers a comedian self-discovery and healing from family trauma.
---
…I'm drooling just flipping through these titles. But I still want more companions for the outdoors journey!
So please,
tell me, what are your favorite female nature writers? Which outdoorswomen inspire you to go outside? Which books have I missed in my lists?
Thanks for reading, my friends.
Warmly, Liz Charlotte Grant
---
More Curious Reads
#2
Will former President Trump's arrest finally cause evangelical Americans to dump him as their "imperfect vessel"?
One pundit says no way. —
The Guardian
#3
United Airlines plans to bring flying cars to Chicago.
Yes, really. Jetsons era is HERE. —
Free Think
#4
Save the planet by eating this invasive species of fish you've never heard of:
meet the copi AKA the Asian carp.
(Such a great long read about rebranding an unpopular and abundant fish variety)—
Wired Magazine
"There shouldn't be starving people in America," says Clint Carter [a third generation commercial fisherman]. Not with the rivers stuffed with these creatures.
#5
Binge "The Witch Trials of J.K. Rowling" podcast for a primer on the disagreements within trans and feminist politics and to develop greater empathy for the trans folks in your life.
It's surprisingly thoughtful and nuanced, in my humble opinion. (But tell me if you disagree! I'd love to hear from you.)
—
The Free Press
---
---
A Poem for Good Friday
It's Friday, but Sunday's a'coming.